MEETING OF INTER-AGENCY ANTI-CORPORAL PUNISHMENT COUNCIL
15 November 2016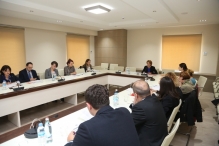 Meeting of an Inter-Agency Council mandated to implement anti-corporal punishment measures has met today at the Government Administration of Georgia.

It was chaired by Ms. Sophie Japaridze, Assistant to the Prime Minister of Georgia on Human Rights and Gender Equality. Meeting was attended by officials of line ministries comprising the Inter-Agency Council.

Respective public institutions of the country presented information on the efforts made against physical abuse of women and corporal punishment, protection of victims within the scope of the Action Plan covering the time-frame of 2016-2017. They responded to questions relating to the commitments made towards preventive measures through October 2016.

Action Plan for 2016-2017 was endorsed with a Government Resolution N341 on July 26, 2016. In contrast with the previous years, it goes beyond the corporal punishment and covers a wide spectrum of abuse of women, such as sexual compulsion and early marriage.

"Specific indicators, baseline and target aims and goals have been defined to ensure the effective implementation of measures laid out in the Action Plan for 2016-2017 to fight against abuse of women and corporal punishment, as well as to protect the victims. Efforts will be measured and monitored respectively".

Implementation cycle of the Action Plan is approximated with the performance under the Government Action Plan on the Protection of Human Rights in Georgia. Links between the referred policy documents have been made stronger.