Official Visit of the Human Rights Secretariat of the Administration of the Government of Georgia to Malta
27 July 2018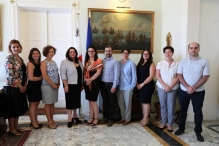 On July 16-20th 2018, the representatives of the Human Rights Secretariat of the Administration of the Government of Georgia, paid an official visit to Malta to meet with the representatives of the government and non-governmental organizations.
Georgian Delegation held official meetings with the Minister of European Affairs and Equality of Malta, Ms. Helena Dalli and the Human Rights and Integration Directorate to discuss reforms undertaken by the Government of Malta for ensuring gender equality. The delegation also met with the Department for Industrial and Employment Relations and commissioners of the Industrial Tribunal to discuss the alternative ways for labour dispute resolution in Malta.
During the visit, the meetings were also held with the Office of the Attorney General, the Ministry of Healthcare, as well as the National Commissioner for the Promoting Equality and LGBTIQ Rights Movement. The purpose of the work visit was to share the best experiences of Malta in ensuring gender equality, as Malta is considered to be one of the leading European countries with regards to protecting LGBTI rights in Europe.
The official visit of the Georgian delegation was supported by the project "Human Rights for All", the joint initiative of the European Union and United Nations. The three-year programme supports the implementation of the National Human Rights Strategy and Action Plan.