Meeting of coordination council of people with disabilities
27 October 2014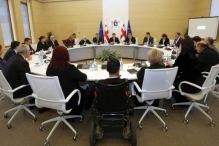 Meeting of coordination council of people with disabilities was held in the government administration led by the Prime Minister of Georgia Irakli Garibashvili.

The ministers discussed the tasks received at the last meeting and presented the report on the work performed.

They also discussed the petition developed for protection of rights of children with disabilities and current issues for people with disabilities.

At the coordination council meeting it was mentioned that the government actively works for providing equal environment for people with disabilities.

The representatives of member non-government organizations of the council thanked the Prime Minister and members of the minister cabinet for the work performed and expressed their hope that the government will continue the systematic approach to dealing with the problems of people with disabilities.

The members of the council also supported the decision according to which the administration of the issues of people with disabilities under the health ministry was transferred to the administration of human right of the Prime Minister which will support the effective implementation of the action plan related to people with disabilities.