Prime Minister Meets the Head of the UN Development Program
01 October 2014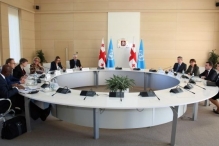 UN Development Program proposes a new plan of partnership to Georgia based on main priorities of the country. It was announced at the meeting between the Prime Minister of Georgia Irakli Garibashvili and head of UNDP Helen Clarke.

UNDP helps Georgia in the fields of democratic governance, economic development, environment protection and preventing emergency situations. The head of the government of Georgia especially emphasized peaceful resolution of the conflict and UNDP humanitarian activities in the villages located along the occupation line.

The parties discussed the economic development issues and assessed the reforms made by the government in this direction. Economic growth rate of the country was denoted as satisfactory.

Irakli Garibashvili thanked Helen Clarke for a number of successful reforms, implemented with the co-participation of the UN Development Program and for the contribution to the development of Georgia.

As the head of UNDP Helen Clarke stated after the meeting, Georgia has made significant steps forward during recent years.

"We are glad that Georgia is carrying out such important reforms. We are especially pleased that today inclusive development policy is being implemented. Georgia has developed a comprehensive strategy in the field of human rights that will become the cornerstone of the country's development," - Helen Clarke stated.