Prime Minister meets with the UN High Commissioner for Human Rights
19 May 2014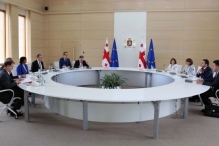 The Government of Georgia attaches a great importance to the right and freedoms of its own citizens, - Prime Minister of Georgia, Irakli Garibashvili stated, during the meeting with the UN High Commissioner for Human Rights, Navanethem Pillay.
The Parties have discussed the current situation of protecting human rights in Georgia. As it was noted during the meeting the mentioned situation has improved since the Parliamentary elections of 2012.
The Prime Minister of Georgia informed the High Commissioner that based on the recommendations of EU special representative, Thomas Hammarberg, also UN and local advocates of rights, the authority developed the national strategy of protecting human rights and action plan, which was approved by parliament.
The parties also have discussed the current situation at the occupation line and humanitarian problems of so-called border villages.
The meeting with the Prime Minister of Georgia was also attended by: spokesperson for the UN High Commissioner for Human Rights, Rupert Colville, Head of the department of US, Europe and Central Asian Countries of UN High Commissioner Office, Gianni Magazzeni, UN Resident Coordinator in Georgia, Niels Scott, Senior Human Right Advisor for UN High Commissioner, Vladimir Shkolnikov, the Minister of Foreign Affairs of Georgia, Maia Panjikidze, Georgia's Permanent Representative to Geneva, UN departments and other international organizations, Shalva Tsiskarishvili, the Assistant to the Prime Minister of Georgia on Human Rights Issues, Tamar Chugoshvili.