Natalia Jaliashvili at the Meeting of the NATO-Georgia Commission
14 September 2017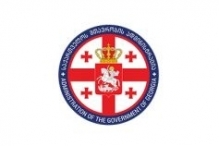 The head of the Human Rights Secretariat of the Administration of the Government of Georgia Natalia Jaliashvili took part in the session of NATO-Georgia Commission that took place on September 12, at the headquarters of the NATO.

Implementation of the Human Rights National Strategy and the Resolution 1325 of the United Nations Security Council was discussed during the meeting. The session was held at the level of Partnerships and Cooperative Security Committee (PCSC). Jaroslaw Skonieczka, Senior Director of Integration, Partnership and Cooperation Directorate chaired the meeting.
Deputy Head of the Human Resources Department under the Ministry of Interior, Maka Petriashvili also attended the session.

Members of the Georgian delegation updated the allies on the challenges in the field of human rights protection and steps taken by the Government of Georgia in that area. Particular attention was paid to the judicial reforms, efforts taken to reinforce freedom of media, gender equality, protection of labor safety, reinforcement of the rights of the persons with disabilities and implementation of Resolution 1325 in Georgia. The allies welcomed the steps taken by Georgia in terms of reinforcement of the human rights protection.