Georgian Government Highlights Gender Equality Efforts
10 November 2015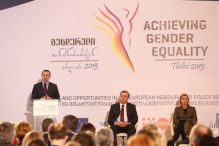 The Government of Georgia, in partnership with the European Union, hosted a two-day international conference on "Achieving Gender Equality." The conference focused on three main topics: the growing role of women in the political and economic arena; the growing role of women in peace and security issues; and the elimination of violence against women and girls.
Georgian Prime Minister Irakli Garibashvili's advisor on human rights and gender equality issues, Sopo Japaridze, delivered remarks on the elimination of violence against women and girls.
She outlined the causes of violence, including domestic violence, and the importance of generating a united effort to eliminate those crimes. She also discussed the Government of Georgia's significant commitment to the issue, including developing an appropriate legal framework, encouraging gender equality and strengthening key institutions.
Japaridze reaffirmed the government's readiness to carry out consistent awareness campaigns on issues such as violence against women and girls and the prevention of early marriage. Both campaigns were also discussed by Prime Minister Garibashvili during the UN Global Leader's Meeting on Women's Empowerment and Gender Equality in September 2015.
Prime Minister Irakli Garibashvili, European Union High Representative for Foreign Affairs and Security Policy and Vice President of the European Commission Federica Mogherini and UNFPA Regional Director for Eastern Europe and Central Asia Heimo Laakkonen all delivered opening statements at the conference. Foreign Minister and Vice Minister Giorgi Kvirikashvili also participated in the event.
The conference was held in Tbilisi from November 14th-15th, 2015.